When Harlyn Primary School began organising a World Book Night, they decided to ask for messages from some of the children's favourite celebrities, to encourage reluctant readers to try their favourite book.
One Rupert Grint was a very popular suggestion, not only because the children love him (and the school awards a Harry Potter scroll to children who have read the entire series), but because, during the Olympic Torch Relay last year, he took over the Olympic torch from the one hundred-year-old great-grandmother of James and George, two of the boys involved in the Book Night, and whose mother volunteered to track down a message from Rupert.
Luckily, she contacted RGN and we were only too pleased to help her.
And Rupert, being Rupert, replied with not just a title and a 'good luck!', but with something simply perfect for primary school age children :
"My favourite book as a child was 'Green Eggs and Ham' by Dr.Suess. All of the doctor's books had some kind of effect on me, but it was this story I could never and probably still can't get out of my head, I was obsessed, I knew every word off by heart, everything about it was perfect, the simple surreal rhyming style and the sometimes quite haunting illustrations, my mum even made me green eggs and ham for dinner once, with green food colouring, it was actually quite disgusting, but I just needed to try it!"
As you can imagine, everyone at the school was utterly thrilled. The children have made Rupert his own BAFTA, which apparently he is welcome to collect any time he likes, and have this message for him :
"Dear Rupert

We were really excited to hear from you! We think you must really like reading books because your reasons for liking the Dr Seuss book Green Eggs and Ham was very descriptive. What great memories you have.

Most of us at book club have read all of his books too. Our best words to describe his books are; short and snappy, funny, weird and random. He's quite unrealistic and weird but we think that's why we will never forget them!

In our photograph we have your email reply in a frame so that everyone in the school can read it.

We will treasure your reply forever as you wrote from the heart and that was so special for you to share that with us. We made you a "Book Club Bafta". Now can you see how much we loved hearing from you! You are awesome!!!!!

Thank you from all of us at Harlyn Primary School, we are holding your Bafta! (ready for you to collect! Lol!)

PS try Nigella Lawson's version of Green Eggs and Ham, it looks quite yummy!"
They sent us this picture of some of the children with their favourite books, Rupert's award and his framed quote.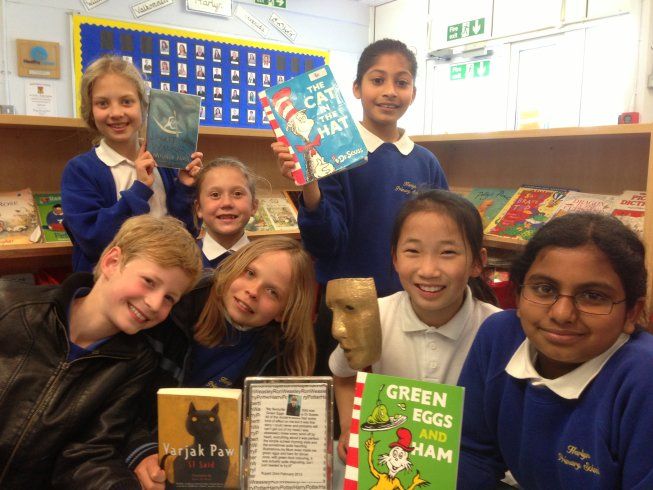 Remember how, when Delia Smith would use cranberries in a recipe, and all shops in the UK would sell out of cranberries? Well, with the number of green eggs being demanded of Harlyn Primary parents, I suspect local supermarkets should stock up on green food colouring...