April 2006: As part of the promotion for Driving Lessons at the Tribeca Film Festival, Movifone hosted an Unscripted session with Rupert and the film's director, Jeremy Brock.
26 April 2006: MTV News publishes an article about Rupert's experience on the set of Driving Lessons.
"I'm learning to drive in real life," Grint said, "so part of the reason I signed up for this film was that I was really looking forward to driving a car. I was only 16 when I was doing it, so it was against the law [in England], and we had to shoot mostly on private roads. But there was one little hill where I was supposed to drive up and stop, and I forgot to put on the hand brake, and it started to roll toward the camera."
30 April 2006: Driving Lessons has its North American premiere at the Tribeca Film Festival.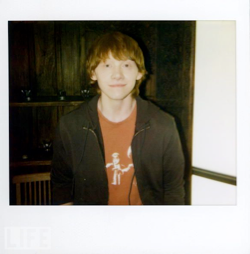 Cocktail Party Polaroid Gallery | Red Carpet Gallery
16 May 2006: Good news for Rupert's fans in America! Sony Pictures Classics acquired Driving Lessons for distribution across the states.
"Occasionally a film is born under a lucky star. I feel lucky indeed that the artistry of Julie Walters, Rupert Grint, Laura Linney and Jeremy Brock have been recognized by Sony Pictures Classics, and that our film will be guided by the extraordinary distribution expertise of Tom Bernard, Michael Barker and Dylan Leiner."
3 June 2006: Daniel Radcliffe, Rupert Grint & Emma Watson were nominated for MTV Movie Awards' Best On-Screen Team Nomination for Harry Potter and The Goblet of Fire. Unfortunately, they did not win.
25 June 2006: Daniel Radcliffe, Rupert Grint, Emma Waston and Matthew Lewis starred in a short skit made as part of the play, "The Queen's Handbag", that was shown at the Queen's 80th Birthday Celebration at Buckingham Palace.
"The highlight of the evening was a special TV show in which villains steal the Queen's handbag and her glasses. Loads of huge stars like Daniel Radcliffe, Emma Watson and Rupert Grint were in the show, as was model Sophie Dahl who author Roald Dahl based Sophie in the BFG on."