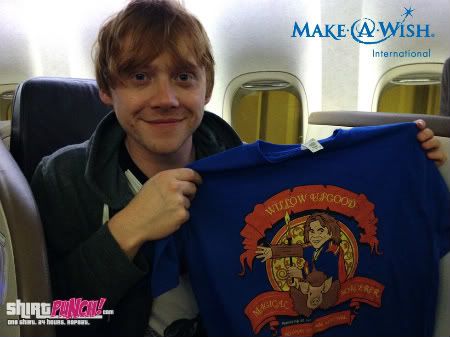 We all know how Rupert loves his t-shirts (as we found out recently, he has around 1,000 of them!), and he's putting his support behind a very special fundraiser, alongside Warwick Davis and his Life's Too Short co-star/writer Ricky Gervais, and Mark Williams.
ShirtPunch.com has teamed up with Warwick and other members of the Harry Potter cast to design a t-shirt, with 100% of the proceeds from the sale going to Make-A-Wish International to benefit children in the UK living with life-threatening conditions.
Featuring Warwick's character Willow, from the 1988 film of the same name, the t-shirt costs $10 and will be available for just 24 hours on Monday, 21st November. ShirtPunch.com hopes to sell 5,000 t-shirts which will raise a donation of around $25,000 for Make-A-Wish International. Christmas is coming up, and this t-shirt would make the perfect present for the geek in your life (or yourself, in my case), so why not take the opportunity to snag yourself a one-off t-shirt and help raise funds for an amazing cause at the same time?